Pest Control For Building & Construction
The Challenge:
In the food supply and logistics chain, there are numerous pest infiltration points such as: food packaging, goods transportation, warehouse distribution. Worst still, many of the pest infestation often go undetected and would have a domino effect on the rest of the supply chain.
Pest infestation can happen in any of these stages!
Raw Materials
Food Processing & Packaging
Warehouse Distribution
Logistics & Export
Retail Stores
The Risks Involved:
Consequently, this could cause serious reputation damage and you sure would not want your goods to go all the way up to your consumer's end.
The Importance of Being Pest Free:
Your Reputation Is Important
Avoid High Compensation Incurred
Avoid Any Form of Contamination
Avoid Further Damage Incurred
Why Choose Us For Pest Control
Everything from:
Premise Analysis
Pest Identification & Proofing
Pest Treatment Implementation
Facilities Management (e.g. Sealing Entry Points, etc.)
Facilities Surveillance & Monitoring
Developing Long Term Strategies For Pest Management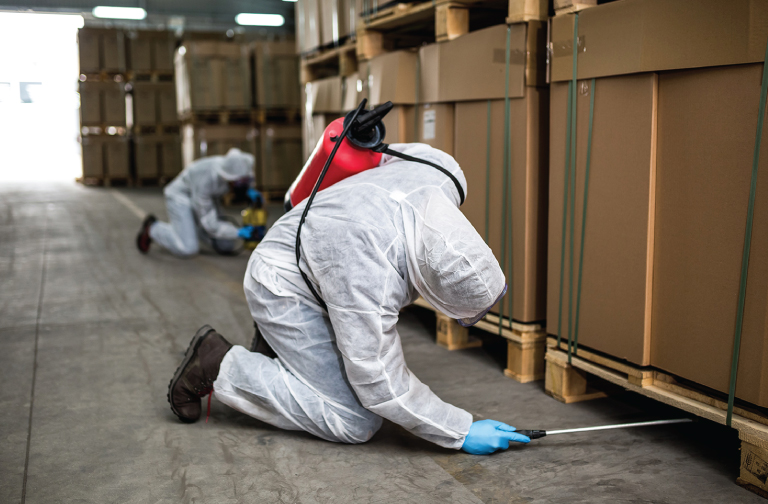 Why Choose Us For Pest Control
5 Stars
Service Quality
0%
Hotspots In Your Facility | Our Solution
Top Hotspots
Warehouses and distribution centers are areas that pests love to dwell. This is because it has the presence of food, water and shelter, basically all the items necessary for pests to thrive. Therefore, it is essential that regular inspections are carried out – for pest identification and treatment to be executed.
Areas that are more prone to pest activity include:
Employee break rooms: leftover food that are not disposed off, unwashed dishes
Storage rooms: great sheltered and hiding places for pests. This also allows them to breed without being noticed
Dumpsters: they attract cockroaches, ants, rats, flies
Loading docks: due to its high traffic, it allows pests to be carried around and to various places
Pallets: they are favourite places for wood-eating pests like termites
1) Securing The Exterior
Pest would need little space to infiltrate into a premise, therefore the first thing that a professional would do is to seal up a premise's entry points (holes, cracks). Following which, maintenance staffs would need to be deployed to conduct routine inspections in the event any of these entry points need redoing. The cracks would also need to be filled with rodent-proof sealant and other solutions to repel pests such as: rodents, termites, etc
(2) Implementing a Sanitation Routine
After securing the entry points, the next step is doing a wipe down on work areas consistently. We will use solutions to prevent residual build up on machinery and around drains that would potentially attract pests. We will also remove unnecessary clutter in your premise. It is advised that staffs adopt a practice to place older products at the front of storage areas.
(3) Monitoring Devices
After which, baits stations and traps will be set in targeted areas to help to bring out pests, and eliminate them. These traps also serve as data for us to analyse which areas are more susceptible to pests, and which areas still have pests lurking
(4) Ensure That Staffs Follow Supplier Verification
Staffs need to ensure that goods are not brought directly from vehicle to storage areas. There needs to be a routine check in placed – where packages are broken down and inspected before they are moved. Staffs would need to look out for signs of pest infestation such as: droppings, stains, damages done, etc.
Common Pests Found In Logistics & Supply Chain Facilities
Cockroaches
Due to the high influx of goods and materials, they are a source of food for cockroaches, which will seek out these goods
Cockroaches are an avid carrier of bacteria and diseases and can potentially contaminate goods in the supply chain
Rodents
Rodents can cause structural damage as well as cause damages to items in the supply chain
Monitor your warehouses, shipping areas and garbage disposal areas, as they can be a form of shelter for rats
Termites
Wooden pallets would attract wood eating pests such as termites
Not only will they cause damages to your goods, but they can move further up the supply chain and hunt for other wood items
Stored Product Pests
These pests are hard to detect as they could already be inside the goods.
They mainly cause damage to your stored food, and could lead all the way up to the consumer's end, which would affect the brand's reputation
Why Choose Us For Pest Control
Everything from:
Premise Analysis
Pest Identification & Proofing
Pest Treatment Implementation
Facilities Management (e.g. Sealing Entry Points, etc.)
Facilities Surveillance & Monitoring
Developing Long Term Strategies For Pest Management
Tips To Keep Pests Under Control
We always recommend using a pest control professional who will survey your site and check for signs of pests. Here are our top tips for keeping pests away
Eliminate Food Sources & Clean Up!
Ensure that food spillages are cleaned up and removed quickly. Use a sanitiser when applicable
Ensure that dust and debris are cleared around the base of shelving areas (where rats lurk)
Ensure that stagnant water is cleared and leakages are fixed (where mosquitos will breed)
Prevention Is Better Than Cure!
Seal off or close entry points (loading bays, side doors) to ensure pest do not creep in
Inspect shipments and look out for signs of pest infestation (droppings, damaged goods, nesting, etc.)
It will be helpful to rotate stock and materials that are being stored. This will help to ensure that pests will not be breeding and left undetected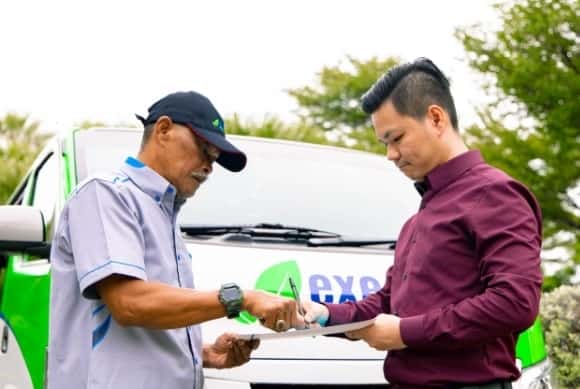 Solve Your Pest Issues Once And For All Today
Request A Free Quote
Fill up the form and we will get back to you within 24 hours.